Intro: Message From Helen

– Bring All Of Your Family Together

Happy Birthday Helen! – A Birthday Present From Me To You
Helen – Tip #38:
When Someone You Love Dies
Lara – Tip #49: How To Deal With Grief

Feature Article:

Empowering The Family Man (new book coming soon)
Chapter 8. As A Family Man Your Sister-In-Law and Brother-In-Law Relationships Are Like Brother and Sister Relationships
Talk About: Pregnancy & Massage

– 12 Tips For Coping Without Stress During Pregnancy –
Part 5 – If You Are Tired of Being Tired, Massage Works So Well
Helen Recommends:

Helen's New Book, "Empowering Your Family" –
Chapter 4 – Mum's Struggling In Pain

Movember: Support No Shave November For Men's Health Research
Welcome:

New Readers to the Chelsea Massage Community
Massage Gift Vouchers
Message From Helen

Bring all of your family together…
Which picture of massage would you like see happening in YOUR life…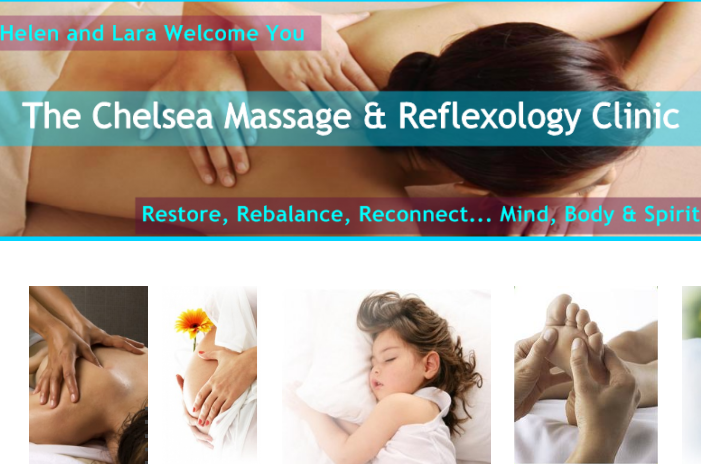 … FINALLY sleeping well again? What would it feel like to have your feet supple and flexible, all the muscles soft and relaxed, walking totally pain-free again? … If you're pregnant, what would if feel like for you to be comfortable again? Imagine the impact of that on the health of your soon-to-be-born baby … If you use a computer all day long, how would it feel if your shoulder blades stopped cramping and burning from using the mouse all day long? How much more productive would you be if nothing hurt?
There is no time better than right NOW to get a new zest for life and feel absolutely fabulous living in your body temple! … and that is PRICELESS!
It's Helen's Birthday … Come Join The Celebration!!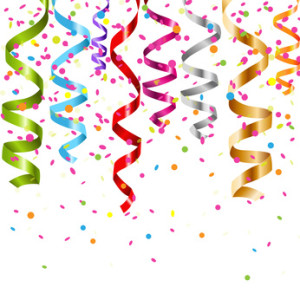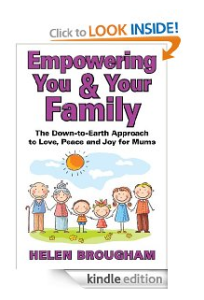 It's my birthday week and I want to celebrate with everyone

I got a FABULOUS birthday pressie earlier this week when I heard that "Empowering You & Your Family" is on the shelves at Dymock's Bookstore in Adelaide – right next to Jack Canfield and Louise Hays!! What an incredible HONOUR!
I know that for many people, getting to Adelaide to go Dymock's just isn't possible so I've decided to have an in-store birthday celebration on Amazon!
My birthday present to you is a HUGE discount on the Kindle edition of my book from now through November 30. You can pick up a copy of the book for a mere fraction of the price it regularly sells for.
Here are just a few examples of what you will find inside of the book:
Discover how to have your relationships flow the way you want. We are all here to make a difference and enjoy our lives. Find out how to overcome what limits you!
Learn to connect with children, partners, friends and yourself



Understand what triggers you to lose your cool and stop nagging your kids

Know how to ask for what you want and get it


Live a healthier, more fulfilled lifestyle

Learn how to listen and understand what people are really saying


Find how to create real connections of Love, Peace and Joy the easy way

Discover the ONE action you must take to stop giving away your POWER


and so much more ….

Regularly the digital version of the book sells for $19.95 …

My birthday celebration price is just $2.99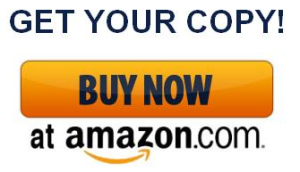 Yes … you read that right … just $2.99 … A savings of $16.96 … just for you … because I am grateful to YOU for being part of my life and I believe in you living an amazingly blessed and empowered life! I also would LOVE for you to take the time to come join the fun on Facebook! If you haven't liked our page yet, please do that!! Be sure to leave your comments about the book right on the page … it would be such a blessing for me and everyone who reads it!
My birthday celebration goes until midnight November 30 … And then the price goes back to $19.95

Please don't hesitate to take advantage of this offer … I can't see it happening again until next year!!


Quick Tips

TIPS: # 38. When Someone You Love Dies.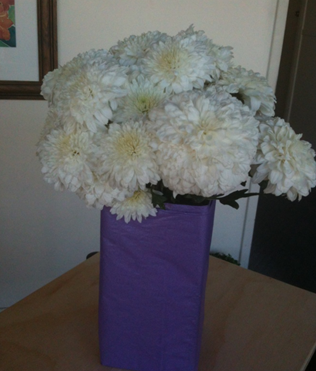 Often it is a shock when someone you love dies … someone you know from work, a distant cousin, a school friend, a person you know and dearly love. Death affects each person differently, and there is no right or wrong way "to be" when it happens. One thing I do now that gives me a great deal of comfort is to take some quiet time and sit with the thought, "If this were to be my time, how would I want my loved ones to remember me?"

As a Mum, I know in my heart that I would want my children to remember the sound of my voice saying, "Keep going!!! YOU are doing GREAT!!!" I know that I will be there with them, smiling when they are successful and living a happy life. I also know that I will be smiling gently to comfort them when they are going through the other times that everyone goes through. I want them to remember my birthday and say, "Hi Mum Happy Birthday!! I love you!!" I want them to do the same at Christmas time, "Merry Christmas Mum!!" and I want my husband to do the same!! But, above all, I want them all to always be happy and live wonderfully empowered lives!!

Lara – Tip #49: How To Deal With Grief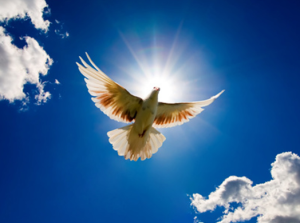 There are many levels of grief and each is as unique as the person experiencing it. The way we cope with the loss of the people we love and adore is completely individual and often misunderstood.

In the new book I am currently writing, we will cover the many aspects of grief in great detail. We will explore the levels and the unique presentations of grief. I'll be discussing some "how to cope with grief steps". And, I will also be having a very down-to-earth conversation about being comfortable with living life and how to live as they would want us to without feeling guilty. I will even share with you how I learned to be with family that aren't physically present with us any longer.
My two grandparents, whom I loved and adored, died 8 days apart. As a young Mum, with a husband and four children aged 8, 6, 4, 2 years old, I know how hard and lonely it can be to deal with the loss of close family members. I also know that life goes on and we have to do everything we can to get on with living – for ourselves and for the others who depend on us. I learned to live in the now with my wonderful memories. I will be sharing the process I learned to be able to do that. It has helped everyone I've taught it to. And now, it's time for me to reach out to help more people!

As a Mum, I want my family to be able to remember me at a level that is not like the conventional way most people are remembered now. It would break my heart to see my family fall apart … to see their relationships with each other and their Dad not continue on as part of a strong, tight-knit, happy and lovely family. If that happened, I would have not helped them grow in the magic of family love, peace, joy and connection.
Feature Article – Empowering The Family Man Chapter 8

As A Family Man Your Sister-In-Law and Brother-In-Law Relationships Are Like A Brother and Sister Relationship
Integrity is doing what you said you would do and doing that creates the relationships you have in life
Dad creates how it is going to be in his life. With his decisions and choices he is the one that creates how his life goes.
The same holds true for how family and extended family dynamics are created. He needs to sit down and work out how to do that with his partner. Dad has to take a look at how his partner does THEIR life. And, alot of that depends on the things they were exposed to in THEIR life.

A family's intention could be based on the "Working Hard" model – my family will get a good education, my kids will have a great career, they will find someone special, have children and grand children., everyone will be happy and love one another. Another family's intention could be to love one another unconditionally, practice yoga daily, and eat healthy food.
Each generation has different needs and wants according to family history.
If your parents did not have much money and your generation will create what they feel is most important. And that is most often determined by what they feel they missed out on, what they will have when they become adults and are in control of getting what they want and don't want.
That could look like having more money to give their children because they did not have money growing up. If your family had lots of love and lived comfortably, most likely this will continue.
Now a new dynamic has to be considered – extended family!! Extended family includes fathers and mothers- in-law, brothers and sisters-in-law, step mothers and fathers, step sisters and brothers, half sisters and brothers … etc, etc, etc …
People make decisions about other people instantly – whether to like them or not, whether to like them or not, whether to connect with them or not – based on how that happened in their family. And that occurs every time partners meet each other's families for the first time. You fell in love with one another and you want your family to fall in love with too!
How you consciously choose to treat people sets the standard for how others will treat you – regardless of first impressions. When you choose to love and respect people the way you love and respect your own Mum and Dad, brother and sister, that energy flows out to everyone and it will flow back to you. When that energy stops somewhere, everything becomes unbalanced. This is what I call the "energy Love Circle". I discuss this on page 23 of "Empowering You & Your Family". When you treat people like you would your own family members, there is no separation at all.
Close your eyes and see what would it look like if all were treated the same as Mum and Dad, brother and sister in loving, positive relationships. "Empowering You and Your Family" shows you how you can bring the whole family together.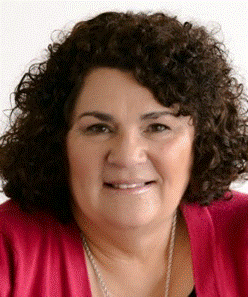 Practitioner: Helen Brougham Helen Brougham has been professionally massaging clients for over 20 years. She has a unique holistic approach to remedial, pregnancy and therapeutic massage on its own, or by using her coaching expertise to help people uncover what is blocking their path to them successfully making changes to excel in their health, their family and their passion to have a full life of Love, Peace and Joy.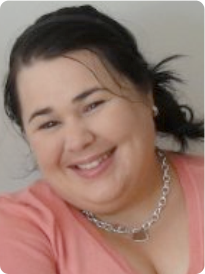 Practitioner: Lara Brougham Lara has been professionally massaging for over 10 years. She specialises in ankle, back and shoulder injuries as well as healing clients with lower back pain. Even the oldest of our clients, who are 90 years old, down to the youngest such as 5 year old children, have aches and pain problems. Lara makes a huge amount of difference so they can sleep at night and start enjoying life again
Pregnancy & Massage
Pregnancy – Relaxation & Remedial Massage Get Results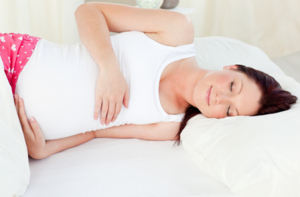 12 Tips for Coping With Stress During Pregnancy
Below are listed several techniques that both women and their husbands/partners have found useful in helping to relieve the sense that life is going into overwhelm.
Gaining confidence in your life: Sit back a little and admire what you have achieved already. Often things don't quite go the way we were told they would and we don't understand why …
In the first two parts of this series we discussed:
Part 1 First, take a look at all the activities you do in your life Monday to Sunday — morning, afternoon and night time.
Part 2 When becoming pregnant, you will be coping as you normally do. Be sure to rest and put your feet up help with any swelling in your feet and ankles.
Part 3. Be prepared to give up some control over the life-style you have worked so hard to attain. Many things about pregnancy are not in your control.
Part 4.
Take a little time and reassess where you are up to each week and allow your husband's/partner's input and care to help you with your decisions about where you are up to.
Part 7. Reading books, looking at magazines, and watching videos about pregnancy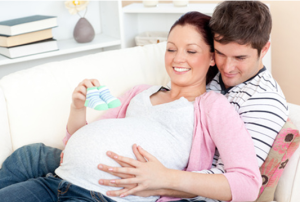 Part 5.

If You Are Tired Of Being Tired, Massage Works So Well!!
Many career women in professional fields, such as Law and Medicine, work long, demanding hours and find that those long hours cause constant strain and exhaustion as their pregnancy advances to the last stages.

If an expecting Mum is serene, easy going, feeling well during her pregnancy, is having massage every one to two weeks, and changes her routine to accommodate the demands of her pregnancy, more often than not, her baby will be easy to feed, happy, calm, communicating and alert!
Research has documented that stressed Mums have a greater likelihood of giving birth to a stressed baby. It is also documented that stress gets focused into the blood and affects how strong baby's bones and muscles grow. The flight or fight instinct that is hardwired into our DNA is affected by stress as well.
Calm, happy environments help the blood and nutrient supply work more towards supporting overall strength, health and brain function in babies. There is a documented difference between babies being born in countries that are at war and countries that are at peace. This makes alot of sense because the unborn baby can hear and feel what the Mum is feeling. The quality of food that Mum eats directly impacts the quality of nutrition the unborn baby is getting. The quality of a Mum's pregnancy has a HUGE impact on how the baby will join the world it is being born into.

Helen Recommends

Empowering You and Your Family
Empowering You and Your Family
Click Here to Purchase "Empowering You and Your Family" From Amazon Birthday Celebration Price $2.99!!

"Empowering You and Your Family" can be purchased on Amazon, CreateSpace, iBookstore/iTunes for your iPad, Kindle, Android, and other tablets and soon a teleseminar series – "Empowering Your Family Blueprint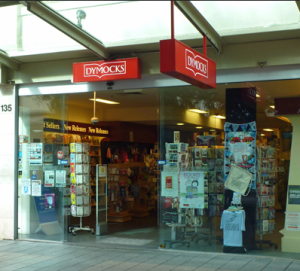 Now you can get this very special book locally!! Empowering You & Your Family! is available in bookstores throughout Australia and New Zealand as of September 2012, so ask for the book in your favourite bookstore.
If you live in or near Adelaide – be sure to stop by Dymock's Book Store – 135 Rundle Mall – You will find "Empowering You and Your Family" on the shelf right next to Jack Canfield and Louise Hays!!
Today's insight from inside the pages of "Empowering You & Your Family" is from
Chapter 4 – Mums Struggling In Pain

When a Mum is struggling or is in pain now days, Mums are not supporting each other as well as they could be. When large numbers of women first entered the workforce, we went to work in order to help the country. Then our men came home and pretty much told us to go home. There was only on e problem with that, women LIKED being away from home doing different things! Many women told their men they weren't going home and the men said nothing.
Women decided they could take care of the home, their children, work outside of the home and have it all. Well, it has all gotten tiring and now women need their men to help at home and help with the children and enjoy their company.
Tell A Friend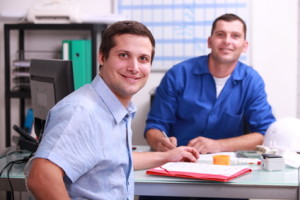 Tired Of Hearing Family Members Complaining About Their Back?

Last week, after three years of coming for massage, we finally got to meet our client's brother!
I honestly think that our client was tired of hearing his brother complain about his back. That day he had a remedial massage scheduled with Lara. An hour later, he was on the phone with his brother telling him "I feel so much better. I can move and I feel taller. I can't believe that the pain has almost gone."
People believe nothing can help them and that they have to put up with their problem because there is no solution. TV and Marketing have done an excellent job of selling "all massage is the same" to the general public. This is so far from the truth that it would be laughable if so many people weren't actually doing more harm than good to themselves by believing this stuff. Hard rubber rollers are not a substitute for remedial massage. There is no such thing as a magic pill for chronic pain relief.
The ONLY thing that even comes close to being a "Magic Pill" for people who have experienced years of pain and suffering is a REGULAR program of remedial massage. Think about this for a second, if we were to believe everything we read, see and hear in the media, eating McDonald's three times a day would keep us healthy and happy!
As you look back over time, I am sure that you can "see" things that were there for the person who is complaining … things that now add up to … hmmmmmm... that's when it all started!
If you know someone who is suffering like this … please SAY SOMETHING to them. You will not catch anything from being a great friend!

Movember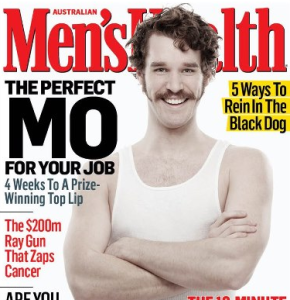 During November each year, Movember is responsible for the sprouting of moustaches on thousands of men's faces in Australia and around the world. The aim of which is to raise vital funds and awareness for men's health, specifically prostate cancer and male mental health.
Registering at www.movember.com, guys then start Movember 1st with a clean-shaven face and then for the rest of the month, these selfless and generous men known as Mo Bros, groom, trim and wax their way into the annals of fine moustachery. Supported by the women in their lives, Mo Sistas, Movember Mo Bros raise funds by seeking out sponsorship for their Mo growing efforts.

Mo Bros effectively become walking, talking billboards for the 30 days of November and through their actions and words raise awareness by prompting private and public conversation around the often ignored issue of men's health.
At the end of the month, Mo Bros and their female supporters (known as Mo Sistas) celebrate their gallantry and valor by either throwing their own Movember party or attending one of the infamous Gala Partés held around the world by Movember, for Movember.
Lara and Helen proudly support Movember! If you would like more information about Movember, or to make a donation, please visit http://au.movember.com/
Thank You!!!
Lara and I would like to welcome all our new client readers to The Chelsea Massage Community! We are delighted you're now a member of our fast growing community. This community values people that want to make a difference in their everyday life.
Our success is unique in helping you, and miracles do happen while working together. You want to know how to feel better, feel relaxed and balanced within yourself, enjoy life with ease, work easier, feel strong in your core strength, have more fun in your business and at work, and enjoy time with your family. Having a massage regularly is what your body needs.
Welcome!
You can connect with us below on:
New to Chelsea Massage & Reflexology Clinic – our app is with Apple!!!
Here it is just a little pre-view. The app is built now. My husband and I are learning how to make an app and be able to create apps for small business people and authors…
You can use the following QR Code on Iphone, ipad and Andriod
Go To Itunes App Store … look for the i-nigma app (or any other you prefer to use) and install it. It's free.

Once you've done that, scan the QR Code below ….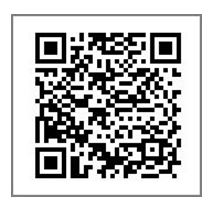 QR Code reader takes you to …. come and have a look

If you want to get your own app, let me know and we can get started to make apps for small business. All I need is your website address. You can email me at chelseamassage@live.com.au name, mobile number and your website name (www) and we can go from there.
Our blog talks about lots of different topics, you can always request information on a particular issue by email above.
Inner Circle Private Group On Facebook
If you have spent time coaching with Helen, we are creating an Inner Circle Coaching Group within Facebook just for YOU!! This is VERY exciting because you already have an amazing awareness of what is going and you will have the opportunity to extend what you already know.
Quite a few people have been asking about more access outside of the Clinic, a place where they can ask questions. The Inner Circle Coaching Group will be open very shortly in a private area within Facebook. As soon as it is ready, we will let you know!

If you have a comment or would like to know more about something or would like to talk about a subject that will benefit yourself and others, I would encourage you send me an email, I would love to hear from you. It's time to step forward into the life you want.
Please let me know at info@helenbrougham.com
You know I love you coming in for a massage because I can listen to you face to face and give you the help and support you need. But, it is quite different being online. I always think to myself, "Does anybody read this? Did I upset anybody? Did they just delete the email or did the newsletter inspire someone? Did I leave people feeling empowered?"
I have to admit that I don't say very much about myself. So I am guilty of withholding myself. This is an opportunity for me to step up and out into my life too. The only thing I ask of anyone joining the Inner Circle is that they be committed to living positive, calm, loving, successful lives by taking a down-to-earth approach to everything.
You may be asking what I mean. So allow me to explain … Keeping up with the Joneses doesn't work. Getting sucked into what the media and advertising says you have to have to be awesome doesn't work. Taking a down-to-earth approach to life is about you being yourself, doing what is best for you and your family so that everyone experiences love, peace and joy in their lives. It is also about being in communication, being open and connected.
I will let you know when the Empowered Living Magazine will be started as there is more than I expected but I will keep you informed of the progress of our magazine. There is a feature section on stress and a mobile app that can be helpful to help people access everything easily. It will be available on iTunes in the Newsstands section so I will keep you posted.
An audiobook is coming for those of you that love to listen to audiobooks while on the bus to work!!
One gal said she was working in child care. Each day she would listen to another chapter on the way to work. She said that her day flowed better and everything seemed much easier. She even said that it seemed as though the children were not upset and yelling as much. She felt much more alert all day with the children!

Another lady said she was able to create a picture in her mind as she listened. The story flowed in her mind. She felt herself calming down. She was delighted that she had finally found a way to enjoy the bus ride to work!
Massage Vouchers
When you give a massage gift voucher, it's a really nice thing to do! When the person comes in they are excited, yet a little nervous. This is normal for us all, but they know they are in good hands because you come here too, so it's like you said, "This is the place and you will feel great just like I do!"
The Chelsea Massage website has had a face lift; there is more to find and read and spend a little time being with us.
Check out our Gift Vouchers Page now to order over the phone and we will post the Gift Voucher out to you, send as a present to your family member, or you can come into the office and pick up your Gift Voucher for a loved one.
Phone Service: 08 8364 6088
Make an appointment anytime from 6 a.m. – 10 p.m. 7 days a week, including holidays
Clinic Open: Monday – Friday 9 a.m. – 6 p.m.
Saturday 9 a.m. – 1 p.m.
Sunday Closed
Chelsea Massage Clinic is closed long weekends and holidays
(c) ChelseaMassage.com.au
All Rights Reserved
Add YOUR Comments! We Would LOVE To Hear From YOU!!!
Tagged as: Chelsea Massage and Reflexology Clinic Adelaide SA, Chelsea Massage Newlsetter, ChelseaMassage, com.au, Empowering Apps, empowering you and your family, helen brougham, Helen Brougham Author, HelenBrougham.com.au