Intro: Message from Helen
Helen & Lara's Quick Tips: Fitness Tip and Reducing Muscle Pain Caused By Shoulder Bags
Feature Article: Teens Under Pressure
Helen Recommends: Stress Free Children
Tell A Friend: Share the love!
Welcome: New Readers to the Chelsea Massage Community
Your Special Gift: A Christmas Gift for You!
Christmas Dates

Message From Helen
Hi
Wow! I can't believe we are coming to the end of another year. This year has flown by so quickly. We've had a very busy year but it's also been an exciting year.
Lara, the team at Chelsea Massage and I are over the moon with the amount of support we have received from all our clients throughout the year. It has given us such joy to see people leave our clinic pain free after suffering for so long.
It keeps us on track teaching people how to live their lives to their full potential. Everyone can have, be and do anything they choose. By keeping our mind, body and spirit balance we can achieve the impossible.
Until next time, have a fun and fabulous day!



Helen & Lara's Quick Tips
Lara's Quick Fitness Tip
When embarking on your fitness regime,  remember to have a massage to smooth and relax your muscles to reduce pain, cramps and injury.
Fitness should not be about how sore you get during or after sessions but the growing strength of your muscles.
Strength comes from long, relaxed and open fibres in the muscle and not from activities that create knotted, cramping and painful muscles. This only causes injury and can prevent you from participating in any further activities in the future.
Helen's Quick Tip – Reducing Muscle Pain Caused By Shoulder Bags
A shoulder bag worn on both shoulders equals up the weight of the bag. Having the bag too low down on your back can cause stomach pain and a nauseous feeling in the mouth. You'll notice your tummy extending outwards and you have a big curve in your lower back. This is due to the muscles being overloaded by added weight from repetition and stress. Sitting still in a chair will eventually become uncomfortable as the muscles will tighten and become stiff. When muscles become tight it pulls your posture out of alignment and causes extreme pain in every direction.

Feature Article
Teens Under Pressure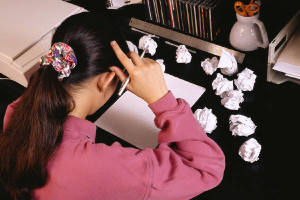 We see many teens and university students for massage and sometimes they just need to talk and verbalise what's going on in their lives.
When stress is high, parents have concerns about how they are coping. Parents always have so many questions about their teens. Are they struggling more than I know? What's really going on in their lives?

How do you know your teen is stressed?
Some teens are angry very quickly, others are very quiet and keep to themselves. Stressed teens don't talk about what's going on in their lives. Some signs to look out for are their eyes – are they shiny or dull? How they dress; dark clothes don't necessarily mean that they are stressed or something is happening that they are not telling you about. But a sudden change in attitude to their appearance maybe a sign that they are stressed and unhappy.
So it's vital for parents to watch out for some key signs. Have a constant awareness of whether your teen is happy or sad is the first step in keeping in touch with their emotions and stepping in to help when they need it.
Parents also need to keep calm and not stress out over their teen. Nothing worse than parents hovering around making sure their teen is doing the work they need to get through in the vital years of high school. The moment you lose control over your own emotions, is the moment relationships can suffer. Your teens will need you whether they know it or not. However, a stressed out parent will result in a stressed out teen!
Only the teen can choice to live their life the way they want. It is about choice and they are responsible for their choices. When parents and teens stay calm and balanced through massage, they make better choices.
Would you like to use this article on your website or in your ezine? You are free to reproduce the text, as long as the information below stays intact.

About The Author: Helen Brougham

Helen Brougham has been professionally massaging clients for over 18 years.  She has a holistic approach to therapeutic massage, using her coaching expertise to teach people how to successfully make changes in their health and personal lives. Her passion is massaging and teaching Mums how to de-stress their children using the same massage techniques she uses in her Chelsea Massage clinic.

Helen Recommends
Stress Free Children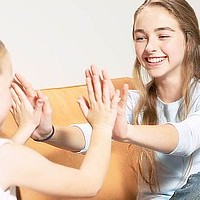 This is your personal invitation to change the lives of your children forever!
Millions of people around the world have experienced the frustration of having stressed out children. Children's bodies go through so much trauma on a daily basis and having the right solution to calming and balancing out their children is the biggest problem facing parents.
You can learn all the tools and techniques that will turn your grumpy little ones into happy little angels in my breakthrough program for parents.
Here are just a few things you'll learn:
Promote deeper, more restful sleep in your child. Massage allows deeper relaxation and mental calmness needed for a better night sleep
How to instantly take control of your child's worry, stress, distraction and forgetfulness with the help of massage
Help strengthen muscles, improve posture and relieve shoulder and back problems caused by carrying school books and heavy bags
And lots more…
Research has shown that short, simple massage practiced on children can help relieve stress and tension, increase alertness and concentration, and help combat muscle and joint soreness, insomnia, headaches, back pain as well as defiant or restless behaviour.
In as little as 5 minutes you can make all the difference in the life of your child. You'll enjoy your children being relaxed and happy. It is a complete system where you can watch Digital video online. You can download and save a copy on your computer so you can learn it at your own pace.
To secure your copy of this incredible and family changing program click here:
Stress Free Children

Tell A Friend
We appreciate you telling others about our Newsletter. Please feel free to forward our Newsletter to family and friends who you think would benefit from the information Chelsea Massage.

Welcome To the Chelsea Massage Community
Lara and I would like to welcome all new readers to the Chelsea Massage community.We are delighted you're now a member of our fast growing community. of Mind, body, health and vitality who want to know how to make more, feel  relaxed, contented within yourself, enjoy life with ease, work less and have more fun in your business, working for yourself or boss and enjoy time out with your family

You can connect with us to learn more and keep up to date with the latest information here:
Blog: Helen Brougham
YouTube Channel: ChelseaNow
Website: Chelsea Massage

Your Special Gift
Here's your easy solution to getting that special gift for the people you love. You can give the gift of peace for the mind, body and spirit this Christmas.
Every person that comes in using their gift voucher for a massage is so excited. They've often saved  their voucher for the time they need it the most.  The best thing is – people often tell me something special about that person that gave them the Gift Voucher.
I always tell people who have received a gift voucher to thank friends and family for their gift. To let them know how the massage was for them and what they got out of it. They may even hint to you to buy for them again next time.
Christmas Gift Voucher's come in several different style packs. Family overseas can call or email all the details and we can send a Christmas Gift Voucher to your family and friends.
Go to our Gift Vouchers Page for details on how to buy a voucher for your loved ones for Christmas.

Christmas Dates
December  24th: Christmas Gift voucher is perfect for the family
December   24TH –January 4th:  Christmas Holidays
December 24 th: Book Appointment! Our team is available throughout the holidays to make like and the holidays easy for you!
January 4th: Start of a New Year at Chelsea Massage
Add YOUR Comments! We Would LOVE To Hear From YOU!!!