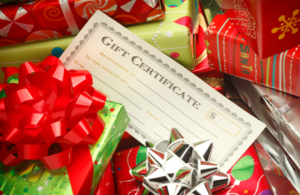 When you give a massage gift voucher, it's a really nice thing to do! When the person comes in they are excited, yet a little nervous. This is normal for us all, but they know they are in good hands because you come here too, so it's like you said, "This is the place and you will feel great just like I do!"
This is a gift that is perfect for EVERYONE!! Who couldn't benefit from being happier, healthier and more relaxed going into the new year? We love offering these Christmas Gift Certificates because they truly are a gift that keeps on giving!

Check out our Gift Vouchers Page now to order over the phone and we will post the Gift Voucher out to you, send as a present to your family member, or you can come into the office and pick up your Gift Voucher for a loved one.
Overseas family can call between times below and order a Christmas Gift Voucher for a specific dollar amount or $110.00 per hour or multi 2, 3 or 4 vouchers and we will send them out fully enclosed inscribed with Open on Christmas Day.
Your email address is important to confirm any detail and your credit card is secure when using with our service
Phone Service: +61 8 8364 6088
Our call centre is never closed and appointments can be made every day for when people return after the Christmas break!
Make an appointment anytime from 6 a.m. – 10 p.m. 7 days a week, including holidays
Clinic Open: Monday – Friday 9 a.m. – 6 p.m.
Chelsea Massage Clinic is closed long weekends and holidays

Merry Christmas & Happy New Year 2013

Add YOUR Comments! We Would LOVE To Hear From YOU!!!
Tagged as: 2012 Christmas Gift Certificates available, Chelsea Massage and Reflexology Clinic Adelaide SA, ChelseaMassage, com.au, Helen Brougham Author, HelenBrougham.com.au, remedial massage, remedial massage Adelaide