Intro: Message from Helen
Quick Tip: Speak From The Heart

Feature Article: What is Scoliosis?
Helen Recommends: The Heart of the Relationship – Understanding Our Differences
Tell A Friend: Share the love!
Welcome: New Readers to the Chelsea Massage Community
Massage Vouchers: The perfect gift to start the New Year!
Back To School: Getting Your Children Ready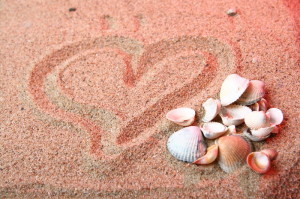 Message From Helen
Hi,
Happy New Year everyone! Welcome to 2011 – a year that is filled with new possibilities, opportunities, love, happiness and success. Like many of you who witnessed the horror of the Queensland floods, this tragedy gave us all an opportunity to show compassion and love towards complete strangers. These strangers, most of whom, lost everything. It was a reminder to me that possessions are worthless. As I heard one person say on the news recently after floods destroyed everything they owned, "My possessions are not going to come to my grave to mourn me." You can replace material possessions but you can't replace human life.
It's our relationships that we have with our loved ones, ourselves and our clients that are absolutely priceless. When I saw those images on TV of so many people rolling up their sleeves to help out their fellow human being, I knew at the core of humanity compassion was coming to life.
Yes, it will be lovely to fill up our River Murray with water and flow once again. For all the orchards and farmers along the Murray to have abundance of water once again. ♥

Quick Tip
Speak From The Heart
When your speaking to your family, friends and clients, start to speak to each person from a thought of love and connection. When we do, our heart opens and we feel love from each person around us.
Stress closes our heart off and we feel alone and fearful. So next time open your arms wide, take a big deep breath in and think Love and Connection.
Close your eyes look at that stress at its worst, now open your eyes see where you are. Look around – see you are safe and relaxed. Now take a another BIG deep breath in and feel safe and love.
Feature Article – What is Scoliosis?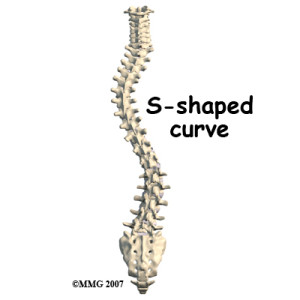 Scoliosis is a disorder that causes an abnormal curve of the spine or backbone. People with scoliosis develop additional curves to either side, and the bones of the spine twist on each other like a "S" shape.
Scoliosis is about two times more common in girls than boys. It can be seen at any age, but it is most common in those over 10 years old.
The spine has normal curves when looking from the side, but it should appear straight when looking from the front. The  curve, seen from the side, in which the spine is bent forward.
Scoliosis is where the muscles throughout the back and spine have become over used. The muscles have mattered into knots and then go under tension as the muscles get tighter and tighter from growing bones, as well as locked up muscles from sport and activities continue to overload on the muscles. The muscle one side of the spine becomes shortened, and while up high on the other side of the spine the muscles has become shortened. This continues from the left and the right side up the spine.
"When the muscles are under tension, they restrict the full length of muscle movement, become out of shape and no longer move easily."
This type of scoliosis, the spine is normal, but an abnormal curve develops because of a problem somewhere else in the body. This is caused by muscles matting and tension in the muscles with muscle spasms in the back, neck, shoulders stomach and legs.
How do you get Scoliosis?
Children can get scoliosis from carrying heavy bags at school. They pull the heavy weight forward causing strain in the muscles neck shoulder and back. Overloading with fatigue, tiredness, and tension in muscles from sports and other activities they participate in on a daily basis. For healthy muscle fibres, athletes can have day/weekly massage to keep muscles optimally relaxed, strong and open.
When muscles are put into a brace, muscle wastage is common. This increases depression and separates friends. In time further problems arise.
Surgery and back brace are not required at an early age as massage is the main treatment, although many other treatments are recommended first. As children grow, massage makes a profound difference to their muscles.
Early Detection – Signs you can look out for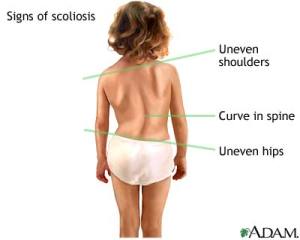 Early signs that parents can look out for is growing pains, tossing and turning in bed, pain during sleep, leg aching, curve in lower back, tummy sticking out, fatigue and stress.
Signs that the muscle is contracting are: short and sharp pains, can't sit or stand up straight, the bed is messed up in the morning, the bed is very uncomfortable, one shoulder is higher than the other shoulder, head is tilted over to one side,  the chin is pushed up into the air, stomach aches and it is hard to breath.
How To Treat Scoliosis
Scoliosis treatments have the best result when the condition is detected early. The muscles require two weekly massages and keeping exercise to a minimum till the tension in the muscles is released. These proven methods of treating scoliosis will this is an appropriate.
Would you like to use this article on your website or in your ezine? You are free to reproduce the text, as long as the information below stays intact.
About The Author: Helen Brougham
Helen Brougham has been professionally massaging clients for over 18 years.  She has a holistic approach to therapeutic massage, using her coaching expertise to teach people how to successfully make changes in their health and personal lives. Her passion is massaging and teaching Mums how to de-stress their children using the same massage techniques she uses in her Chelsea Massage clinic.
Practitioner: Lara Brougham
Lara has been professionally massaging for 10 years. She specialises in ankle and shoulder injuries as well as healing clients with back pain. Even the oldest and most put up with problems, Lara makes a huge amount of difference for clients so they can sleep at night and start enjoying life again.
Helen Recommends
The Heart of Relationship – Understanding Our Differences Event
Christmas and New Year is a time that we get to reflect on that's really important.  No doubt there will be lots of great presents, but I think most of us would be prepared to trade them all for amazing love and connection with our partner.  Let's face it, it doesn't matter how great our work or business life is, at the end of the day, it's what we come home to that really counts.
Well….this is your opportunity to have the love you want!  A colleague of mine just happens to be one of Australia's leading relationship and personal change specialists and she is coming to town.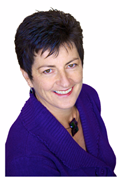 Her name is Heather Yelland and I have seen her speak several times and am always enthralled by her ability to engage people from the heart.  She will support you to make sense of what you feel, get clear about what you need, and then give you strategies that can change the very essence of your relationship.
Heather has an incredible energy, as well as a wealth of knowledge, that come together to create a space that supports, nurtures and indeed challenges you to a new perspective on your relationship.  For me personally, there's something about Heather's work that helps me believe more and more in myself as well.
So, as the new decade dawns, I strongly recommend you begin as you mean to go forward, investing in the one thing that can change all aspects of your life…. the joy in your relationship.
Heather Yelland is coming to Adelaide. Register now – www.heatheryelland.com/heart
Tell A Friend
We appreciate you telling others about our Newsletter. Please feel free to forward our Newsletter to family and friends who you think would benefit from the information Chelsea Massage.


Welcome To The Chelsea Massage Community
Lara and I would like to welcome all new readers to the Chelsea Massage community.We are delighted you're now a member of our fast growing community. Our community values their mind, body, health and vitality. They want to know how to make more, feel  relaxed, feel contented within themselves, to enjoy life with ease, to work less, have more fun in their business, and enjoy time out with their family.   

You can connect with us to learn more and keep up to date with the latest information here:
Blog: Helen Brougham
YouTube Channel: ChelseaNow
Website: Chelsea Massage Clinic
Massage Vouchers
Start the New Year blissfully. You'll be able to create and achieve more if you are in the right state. Why not give the gift of success to someone you care about.
We have 4 wonderful Gift Vouchers to choose from:
Relaxation Massage 1 hour
Remedial Massage 5×1 hour
Empower Yourself Mum Coaching Program
Check out our Gift Vouchers Page now to order a Gift Voucher for a loved one.
Getting Your Children Ready To Go Back To School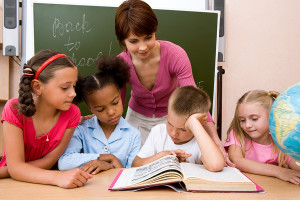 It would do your children well to have a massage before school starts again. It releases the nerves and relaxes the muscles ready for sports and activities.
Massage therapy helps children with:
Improving school report results
And a lot more…
Good News!
Private Health Cover for Family: If you have cover for Remedial Massage, your children will be covered too. Are you using what you have paid for in massage and helping your children? Time for your children to be having their massage, you're paying for it!
Go to our Contact Page now to book a Remedial Massage for your child.
Dates
January: Wedding Anniversary: 33 years married
February: Heather Yelland Heart Workshop
March: Shift Training Program in Melbourne
May: Mother's Day  "Book Launch" of my first
Launch of New Website for the book
Add YOUR Comments! We Would LOVE To Hear From YOU!!!