Intro: Message from Helen – Stepping Forward into 2012 Quick Tips: Tip# 2: Where Does Your Pain Really Come From? Tip #5: What to Do When Negative Thoughts Keep Coming Feature Article: "Do You or a Friend Have Multiple Sclerosis?" Talk About: Pregnancy Massage – Hot, Swollen Feet Helen Recommends: Looking After Your Body with Massage – Multiple Sclerosis Tell A Friend: Moving to a New Place and Settling into Another Country Welcome: New Readers to the Chelsea Massage Community Massage Gift Vouchers: This is a Good Time to Get a Massage Gift Voucher for Your Family Members or a Loved One! Dates: "Empowering You & Your Family" book is now here!
Message From Helen
Feel Empowered to Step Forward into 2012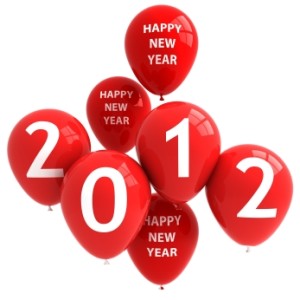 I hope the holiday break was relaxing, refreshing and gave you time to slow down before the return to work. Now it's a distant memory! Here at Chelsea Massage, the clinic slowed down, then stopped for 2 weeks. Lara stayed in Adelaide while Helen was over at Tumby Bay for the New Year, near the beach. Since being back we are making a huge difference in muscle pain, fatigue, stress and chronic scoliosis problems. Often people come to us as a last resort, when everything else has been tried without success. What we offer to you does have an amazing affect in what you are looking for to be happy and return to your healthy and happy self. Be prepared to concentrate on your health and not your pocket. For without your health, nothing else happens; your life stops the things, and the thing you love to do stops. A lady last week had been in so much pain she stopped driving her car, and her daughter was very concerned. She loves fishing and wanted to go out there on the water but she couldn't even do that for the rocking of the boat would have been too painful. In one and a half weeks, she was driving her car, went fishing with her friend, and the pain lines on her face are now gone and she looks relaxed. Lara's client had pains in his legs; he would rest a day or two and expect that his legs would be fine, BUT every time he went back to the gym they would get even more painful and it was hard for him to know what to do. The missing ingredient was NOT having a remedial massage, and as soon as he had his muscles released and was injury FREE, he continued the holistic approach every 2 weeks so he gets to go to the gym and enjoy his sessions stress and pain free. Did you know that people who use the gym to release stress by pushing their body too hard cause injuries, they don't get the pain sorted, and then they damage the muscles and have to STOP exercise? That is terrible. To love what you do but can't do it. Cheap is very expensive if nothing works! Some people are paying $50.00 for 5 minutes of treatment, 3 times a week; then add time, fuel and travel, that equals 15 minutes @$150.00. Other therapies are $60.00 for 3 minutes, 3 times per week; 3 x $60.00 equals $180.00 per week for 9 minutes of treatment. With the holistic massage approach (which looks at helping all of you), 60 minutes is just $110.00. Last year I noticed people were searching for something that would help with their problems and often being told "You have to put up with it for the rest of your life," which seems like a hard thing to do. Be prepared — many before you, including myself, needed to find answers to their problems. Now that 2012 is here, it's time to step forward and get on with what you are meant to be doing. Stop Struggling — Empower yourself first! Check out the blog at http://bit.ly/zLpP2f

Quick Tips
Helen Tip #2: Where Does Your Pain Really Come From? You can have pain in one area of your body, and you massage and put cream on it to relieve that area but it just doesn't make any difference. Often the pain is coming from somewhere else in the body. One classic case is hip pain. Many say it is sciatic pain or bursitis. What happens is the muscles get tight and can really be caused by overloading the muscles in the front of the upper leg or the calf. If only one small area is relaxed, the other areas in pain can become more painful. Look at the whole body approach because what they say is, "The squeaky wheel gets most of the attention." The area in your body with the most pain get ths attention first. Lara Tip #5: What to Do When Negative Thoughts Keep Coming Negative thoughts can come very quickly into our environment with newspapers, TV, radio and in what people say around us. The news is to sell ads and information and they can be very impactful. Start reading positive books and switch the radio and TV off or listen to music with your headphones on. If you have been working hard, your thoughts turn into fatigue and tension in the muscles which restricts movement and puts a heaviness into your mind. Drinking less alcohol, coffee and sweets will help to rebalance your mind and spirit. Use massage to rebalance the body's muscles.
Feature Article
"Do You or Someone You Know Have Multiple Sclerosis?" Google is a good resource for doing research into how you can get help with Multiple Sclerosis, as each person is individual, and so is MS in its symptoms. Research has found that a Massage and Reflexology combination can make a big difference to those suffering with MS. I suggest the only way to know is to have 2-3 sessions and see what your body feels, how your body responds, and the symptoms you have.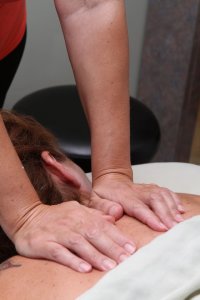 You will know and I will not need to tell you because after the first treatment you will know how you are. A client came in earlier this week feeling and being very out of balance. After treatment he was standing still and comfortable on his feet. There are techniques that I can show you, things you can do between each visit to help yourself along and feel empowered to do it. www.DavidWolfe.com is into nutrients that he says helps people with MS. Check out how this can benefit you too.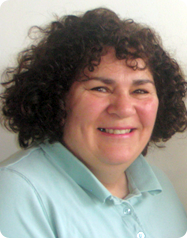 About The Author: Helen Brougham Helen Brougham has been professionally massaging clients for over 19 years. She has a holistic approach to remedial, pregnancy and therapeutic massage, using her coaching expertise to teach people how to successfully make changes in their health and personal lives. Myofascial Cupping was recently added to her practice. Instead of using a flame to make the suction, myofascial cupping is a suction-type action which is much more gentle but still very powerful in releasing tension. Her passion is massaging and teaching Mums how to be calm and positive with themselves and with their children using the same massage techniques she uses in her Chelsea Massage clinic.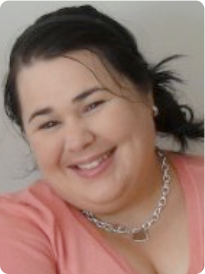 Practitioner: Lara Brougham Lara has been professionally massaging for over 10 years. She specialises in ankle, back and shoulder injuries as well as healing clients with lower back pain. Even the oldest of our clients, who is 96 years old, down to the youngest such as 5 year old children, have aches and pain problems. Lara makes a huge amount of difference so they can sleep at night and start enjoying life again.
Pregnancy Massage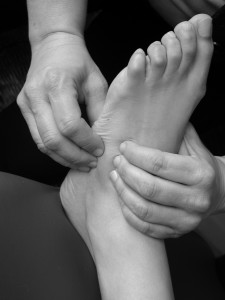 Many pregnant mums have swollen, hot and sore wrists, fingers and feet from being pregnant. What we do during our massage session is relieve all that suffering. January can get very hot and this is when you will feel the heat the most. You don't have to put up with these problems anymore; many just don't know what is available and that it can be relieved so easily. You don't have to give your name when you complete the survey. I can only help you by you sharing what is happening for you: http://www.surveymonkey.com/s/9K2TNXJ
Helen Recommends
Looking After Your Body with Massage – Multiple Sclerosis
Tell A Friend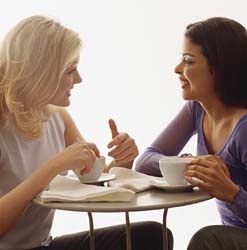 In the last Newsletter I talked about our move from the country area to Adelaide and how I was wondering where to go for the grocers, and which schools were nearby. Sometimes people from another country come to settle into an area near you. We wish to welcome you and your family to the Adelaide and Kensington area. Feel free to ask any questions!
Welcome To The Chelsea Massage Community
Lara and I would like to welcome all our new readers to the Chelsea Massage community! We are delighted you're now a member of our fast growing community. This community values their mind, body, health and vitality. They want to know how to make more money, feel relaxed, feel contented within themselves, enjoy life with ease, work less, have more fun in their business, and enjoy time out with their family.

To the right on this newsletter page you'll find past newsletters that you can catch up on from previous months.
Welcome!
You can connect with us below on: Facebook: chelseamassage and click "Like" to get your free gift YouTube Channel: ChelseaNow Website: Chelsea Massage Clinic
Massage Vouchers
When you give a massage gift voucher, it's a really nice thing to do! When the person comes in they are excited, yet a little nervous. This is normal for us all, but they know they are in good hands because you come here too, so it's like you said, "This is the place and you will feel great just like I did!" Check out our Gift Vouchers Page now to order over the phone and we will post the Gift Voucher out to you, send as a present to your family member, or you can come into the office and pick up your Gift Voucher for a loved one.
My Book is Now Here!
A shipment of books are coming on Tuesday, February 17th! I also have a special Bonus Free Sticker for the back window of your car and I am offering this to you first! There is no mention of this on the website yet because we want our clients — you — to have a sticker first, which is becoming popular for the back window. One problem that is almost normal is stress. And this is what causes communication to break down between our children. This fighting between each other is painful to listen to as our children go at each other and are always wanting us to stop them, and wondering which one I should tell off! It is too hard at this point; then you are stressed wondering, "How can I resolve all that?" In my book you'll find the answers just as one mum before xmas got her Christmas present; her 2 girls have stopped fighting and are getting along and loving each other. http://helenbrougham.com.au/book-launch For more information about "Empowering You and Your Family," take a look on the http://www.helenbrougham.com.au/ website and check out our Facebook page and click the "Like" button. I have not used Twitter much before, so will you please help me get going and tell me what you think? Buy a book for yourself and the Mums in your life. Remember, Life changes when you change! "Empowering You and Your Family" The Down to Earth Approach To Love, Peace and Joy for Mums New website is www.EmpoweringYourFamily.com.au is now up and running!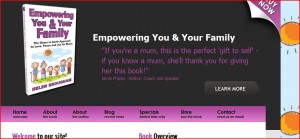 The Chelsea Massage Clinic will be closed long weekend holidays. Make an appointment anytime from 6 a.m. – 10 p.m.; 7 days a week. Clinic Open: Monday – Friday 9 a.m. – 6 p.m. Saturday 9 a.m. – 1 p.m. Sunday Closed (c) ChelseaMassage.com.au All Rights Reserved Web Development by YourOnlineSuccess.com.au
Add YOUR Comments! We Would LOVE To Hear From YOU!!!
Tagged as: MS, multiple sclerosis, negative thoughts, pregnancy massage, Where does pain come from